Even if your college days are well and truly over, this year's ball beauty trends come as a timely reminder to have a little fun the next time you open up your makeup bag.
Go all out with glitter, reach for a red wine-hued lipstick, or herald a hairstyle from your favourite Y2K icon.
Below, we share the trends, tips and tricks to try if you're taking your ball makeup look into your own hands.
PRACTICE MAKES PERFECT
It's a good idea to start practicing your ball makeup look at least one month out to avoid any stressful stuff-ups on the day. The best time of day to practice? Just before you remove your makeup in the evening, as this takes the pressure off from trying to have it look perfect.
"Once you've got your outfit sorted, it's a nice idea to start planning your hair and makeup. Put together a mood board of ideas and start planning what you might need," says freelance makeup artist Sophy Phillips. 
If you're planning on purchasing a pretty new palette or trying out a new foundation, visit your preferred makeup counter or beauty department store where in-store experts can help colour match products to your skin tone, or recommend the best products to suit your skin type or the look you're wanting to achieve.
TRENDS TO TRY
To spotlight the makeup looks Gen Z is embracing in 2022, Pinterest recently debuted its Prom 2022 Trend Hub, a compilation of the top makeup, hair and nail searches along with tips on how to achieve these ball-worthy styles. Featured creators including Peyton List, Natalie Minerva, Melissa Hernandez took turns to make each trend their own, trialing everything from punk-inspired up-dos to glossy eyelids or reverse winged eyeliner.
While few ball beauty trends borrow from days gone by, evoking the high-shine glamour of the 1920s or the youthful abandon of the Y2K era, others draw influence from pop culture, with the likes of Euphoria continuing to reign supreme in 2022.
READ: How To Find The Prettiest Red Lipstick To Suit Your Skin Tone
If you are tempted to lean into Great Gatsby-themed makeup, consider pairing a dark, red wine lip with flushed cheeks and ultra-defined brows — all of which were beauty signatures of the time.
For hair, finger waves are an excellent option for those with shorter hair, or consider full glam Hollywood-esque curls for thicker, longer tresses. A faux bob or intricate up-do also were indicative styles of the Roaring Twenties.
It's been three years since Euphoria made its debut, but face jewels, elaborate manicures, glitter eyeshadow and coloured eyeliner aren't going anywhere. Pinterest searches for blue, green or glitter Euphoria-inspired makeup are up by 46 per cent overall, so expect to see plenty of shine at this year's festivities.
Sophy agrees, saying the iconic makeup looks designed by makeup artist Donni Davy for Euphoria have ushered in a resurgence in 90s makeup trends. 
"Deep lip liner, neon colour pops, exaggerated liquid liner, overlined lips are all happening right now," Sophy says. 
Where Y2K beauty is concerned, bubble braids and half-up, half-down styles remain the look du jour, while millennium makeup looks highlight the playfulness of the decade, with pastel eyeshadows and holographic lip glosses remaining popular picks.
SPEEDY SOLUTIONS
Tight on time? These convenient (and often colourful) beauty products add instant glam
Ardell Nail Addict in Blue Lagoon, $22, delivers on drama, but won't damage your natural nails underneath.
Glam By Manicare Glam Ready Preglued Lashes in Elsa, $8, are fuss-free falsies which come pre-glued for instant application.
Eye Majic Instant Eyeshadow 5pk in the shade Tutti Fruitti, $37. This is one product you'll certainly want to practice with before B-Day, but these press-and-go, single-use eyeshadow pads use heat transfer technology to apply pigmented shadow to eyelids.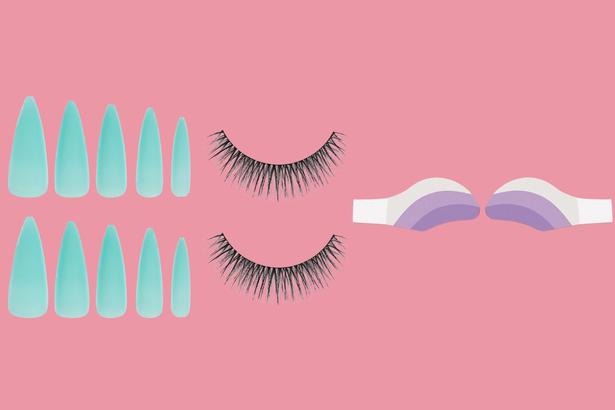 From left to right: Ardell Nail Addict in Blue Lagoon, $22; Glam By Manicare Glam Ready Preglued Lashes in Elsa, $8; Eye Majic Instant Eyeshadow 5pk in the shade Tutti Fruitti, $37. Photo / Supplied
PREP STEPS
In the lead up to the big night, Sophy recommends using skin treatments or masks to help purify and hydrate skin in the weeks prior. "But keep skincare very simple three or so days prior so as not to aggravate anything," she adds.
For the most flawless finish possible, opt for a foundation that suits your skin type, and promises extra longevity. But Sophy warns to pay close attention to the shade you select.
"Make sure the shade you choose will match your body if you're getting a spray tan. You can deepen the shade with bronzer through the contours of the face, and ensure it's blended down the neck," she says. 
STAY ALL NIGHT
It can be difficult to peel yourself off the dance floor to touch up your concealer/eyeshadow/lipstick/all of the above in the bathroom, but there are a few things you can do to ensure your makeup lasts well into the night.
Despite its moniker, a setting spray can be used multiple times while applying makeup for the longest wear possible.
Spritz on skin before and after your foundation (Viva loves Charlotte Tilbury Airbrush Flawless Setting Spray, $57, which hydrates skin with aloe vera and Japanese green tea and helps to set makeup in the same step) and then again before and after powder to lock down your makeup.
Considering Aotearoa's ball season is during the cooler months of the year, a hydrating setting spray will prevent your skin from 'drinking up' your foundation, leaving it appearing chalky or uneven.
Sophy says setting powder is another must-have to ensure your makeup lasts the distance. "Invisible setting powder is key to locking down makeup, particularly in the centre of the face and under the eyes," she says. 
Your best bet to avoid a makeup meltdown is to pack a mini beauty kit to carry with you the night, Sophy says. "Something for lips, a couple of blending brushes, powder, cotton tips, lash glue and hair clips. It pays to be prepared!"
Should your makeup migrate, consider toting around a creamy, long-wearing concealer like the Nars Radiant Creamy Concealer, $49, which won't crease or transfer for up to 16 hours' wear. It utilises light-diffusing technology to brighten under-eyes, address discolouration and disguise blemishes. Depending on the size of your clutch, stash a Beauty Blender, $32, in a Blender Defender Silicone Case, $21, and use it damp in "pouncing" (press and bounce) motions to help blend out any makeup mishaps.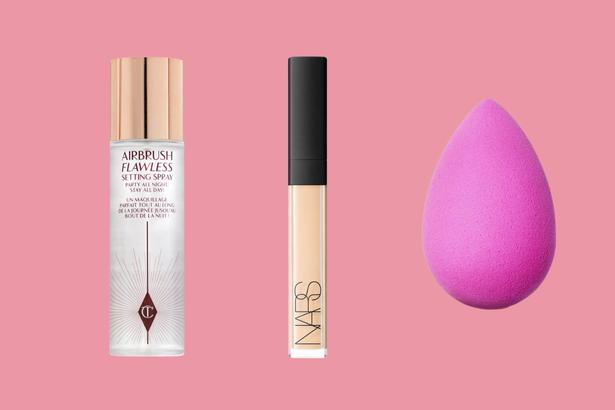 From left to right: Charlotte Tilbury Airbrush Flawless Setting Spray, $57; Nars Radiant Creamy Concealer, $49; Beauty Blender, $32. Photo / Supplied
IF DISASTER STRIKES
You wake up with orange palms from applying fake tan... A tell-tale sign of applying tan without wearing a tanning mitt, the best way to address dreaded orange palms is with a product designed to remove self-tan without stripping the skin of its hydration. Consider Bondi Sands Self-Tan Eraser Gel, $25, which works its magic in as little as five minutes.
A spot appears the morning of the ball… Whatever you do, resist the temptation to pick or pop it. A dry spot is much easier to cover than a wet one, but if you can't bear the thought of leaving a whitehead alone, consider popping on a pimple patch to help drain its gunk. Plus, many can be worn under makeup – just remember not to apply too much foundation or concealer on top as this can draw attention to it. Try CosRx Clear Fit Master Patch, $9, a transparent, hydrocolloid pimple patch which helps reduce the appearance and redness of pimples.
Your false lashes come unstuck… Despite your best efforts to secure them, sometimes falsies can detach at either end. If it does happen, apply a dot of eyelash glue to the tip of a wooden cuticle stick and place the it onto the part of the strip lash that has come away from your lash line. Push it down gently so it sticks securely to your skin, and use a swipe of black liquid eyeliner to disguise any glue marks you've made. Viva loves M.A.C Cosmetics Brushstroke 24 Hour Liner, $45, which won't smudge or budge (trust us, we've tried it).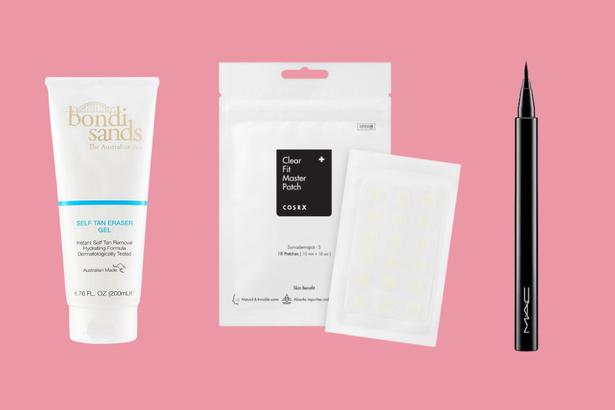 From left to right: Bondi Sands Self-Tan Eraser Gel, $25; CosRx Clear Fit Master Patch, $9; M.A.C Cosmetics Brushstroke 24 Hour Liner, $45. Photo / Supplied
STOCKISTS: Ardell from selected pharmacies; Beauty Blender from Sephora or online at Sephora.nz; Bondi Sands from selected department stores and pharmacies, including Life Pharmacy or online at Lifepharmacy.co.nz; Charlotte Tilbury and Nars from Mecca or online at Meccabeauty.co.nz; CosRx from Adorebeauty.co.nz; Eye Majic from Storkz.com; Glam by Manicare from selected department stores and pharmacies, including Chemist Warehouse or online at Chemistwarehouse.co.nz; M.A.C Cosmetics from selected department stores, or online at Maccosmetics.co.nz.

https://www.viva.co.nz/article/beauty-wellbeing/how-to-diy-ball-makeup/