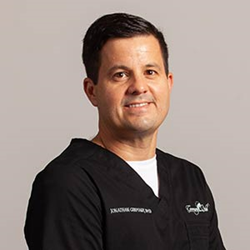 We're very excited to add Dr. Watts and Dr. Kaur to the Germany Dental Team. Our goal is to provide Brandon and the greater Jackson, MS area

BRANDON, Miss. (PRWEB)
January 14, 2022
Jon Germany, DMD of Germany Dental adds two amazing dentists to his growing practice in Brandon, MS to help ensure the best possible patient experience and excellent patient outcomes.
Germany Dental has been one of the leading dental practices in Mississippi for nearly a decade. Jon Germany, DMD started his practice in 2003 and performs an array of premier dental services including dental implants, sedation dentistry, full-mouth cosmetic smile makeovers, implant supported dentures, emergency dental dentistry as well as seeing general dental patients of all ages.
"We've seen tremendous growth over the last few years and needed more dentists to join our team. We were very fortunate to find two amazing dentists, Dr. Watts and Dr. Kaur," says Dr. Germany.
Kellie Watts, DMD graduated magna cum laude with from Mississippi College in 2013 and completed her Doctor of Dental Medicine Degree in 2017 from University of Mississippi Medical College. After working in private practice for 3 years, she joined Germany Dental in late 2020.
Dr. Watts is dedicated to comprehensive patient care with experience in all aspects of general dentistry, including restorative dentistry, crowns/veneers, molar root canals, surgical extractions, implants, and Invisalign.
"Germany Dental has been an amazing new home for my patients. We focus on the overall patient experience as well as excellent patient outcomes," said Dr. Watts.
Navleen Kaur, DDS completed her Bachelor of Dental Surgery (BDS) degree at Adesh Institute of Dental Sciences and Research in 2015 and then went on to complete her Doctor Dental Surgery Degree at the prestigious University of California at Los Angeles School of Dentistry (UCLA) before joining Germany Dental.
Dr. Kaur performs a wide range of dental services and surgeries including general & preventive dental care, implants, tooth extractions & pain management. She wants to ensure her patients get the best possible care to prevent bigger issues from arising down the road.
"I believe that a patient should have only the best possible care and to do that, you have to have state-of-the-art technology and an outstanding dental team. We have exactly that at Germany Dental," says Dr. Kaur.
"We're very excited to add Dr. Watts and Dr. Kaur to the Germany Dental Team. Our goal is to provide Brandon and the greater Jackson, MS area with the best possible dental experience and patient outcomes. With these two talented dentists joining our practice, we can continue to do exactly that, "said Dr. Germany.
About Germany Dental
Germany Dental was founded in 2003 by Jonathan Germany, DMD. He received his undergraduate degree from the University of West Alabama and his DMD from the University of Mississippi School of Dentistry. Dr. Germany opened his practice in Downtown Brandon just outside of Jackson, MS. As a general dentist, Dr. Germany can meet the needs of your whole family. He has a special interest in sedation dentistry, as well as cosmetic dentistry, and takes numerous continuing education hours to stay up to date on the latest techniques. Dr. Germany and his wife, Alicia, live in Brandon and Crystal Springs, MS with their three sons, Harper, Landon, Gabe, and daughters Ruby Clare and Ella Grace.
All Dentists at Germany Dental located in Brandon, MS are General Dentists
For more information, visit http://www.thegermanydental.com or call (601) 825-4746.
Share article on social media or email:
https://www.prweb.com/releases/germany_dental_welcomes_kellie_watts_dmd_and_navleen_kaur_dds_to_its_dental_practice_located_in_brandon_mississippi/prweb18439357.htm