We elicited regular feedback from tutors, high school students and parents to evolve the program to best meet the needs of students and tutors. We also received unprompted feedback from tutors on the positive impact the program was having on their state of mind during the pandemic. This feedback led us to query all tutors on the impact of the program on their wellness, resiliency in research and stress levels in an anonymous online survey toward the end of the spring 2021 semester, asking:
(i)

What impact, if any, has participating in the high school tutoring program had on your mental health and wellness over the course of the pandemic?

(ii)

What impact, if any, has participating in the high school tutoring program had on your outlook or resiliency to the inevitable challenges of scientific research?

(iii)

What impact, if any, has participating in the high school tutoring program had on your level of stress over the course of the pandemic?
We received responses from 22 of the 26 tutors who participated in the program (85%), including 17 responses from PhD students. The responses to these queries (Fig. 1) revealed that participating in the program improved students' mental health and wellness, resiliency in research and stress levels. Tutors gave highest marks to the program's impact on their wellness and mental health, with 18 respondents saying it greatly improved or improved these traits and 4 saying it had no effect on them — an 82% positive response. Most tutors also said the program improved or greatly improved their resiliency in the face of scientific challenges (68%) and stress levels (55%), even though tutors had to devote extra time to the program to prep for tutoring. In fact, only a singular response could be viewed as negative — "Prefer not to answer" — on the resiliency question. Thus, in the face of an unusually stressful year, these responses support the idea that helping others through an educationally based outreach program had a clear positive impact on the wellness and mental health of the PhD and undergraduate tutors. Representative feedback from PhD students highlights this point:
"It's been so nice to have a way that I feel like I'm actually helping people in a year where it feels like all the problems are so big and out of control. I have to take time outside of tutoring to review topics so I'm prepared when I meet with my students, which sometimes adds some stress to my schedule, but tutoring has overall been incredibly rewarding and fun."
"This past year, I have greatly questioned my abilities as a graduate student. Tutoring has given me purpose beyond my research and allows me the opportunity to help others in a very palpable way that has had a wonderful impact on my mental well-being."
"During the pandemic, I have looked forward to tutoring sessions because they give me another activity outside of lab to look forward to, especially when experiments aren't working. I feel a sense of accomplishment because students are receptive to the help I am able to provide, and they seem to enjoy and appreciate the sessions."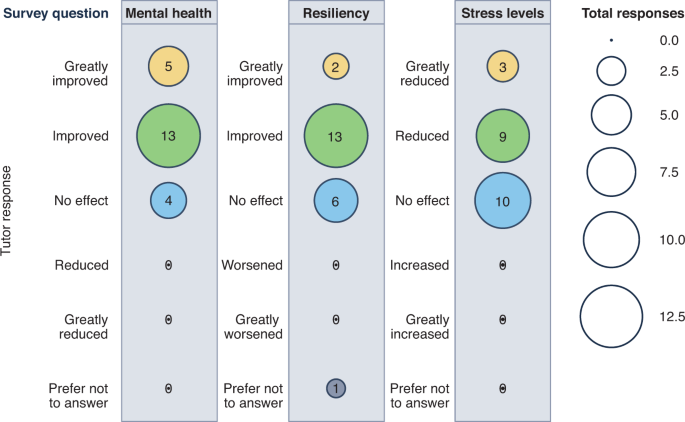 Our experience with the tutoring program and its impact on tutors aligns with prior research showing that helping others reduces stress and enhances wellness and resiliency8,9,10,11,12. It also reinforces calls by national agencies like the National Institute of General Medical Sciences and Howard Hughes Medical Institute to engage PhD and undergraduate students, especially those from under-represented backgrounds, in community-based projects to enhance the retention of under-represented students in science, technology, engineering and mathematics13. In this context, we note that about two-thirds of our tutors (and a greater fraction of high school students) were from groups historically under-represented in the sciences. Thus, our program provides a concrete example of the power of outreach programs in not only helping the targeted population — here, high school students — but also the PhD and undergraduate tutors who power the program.
https://www.nature.com/articles/s41587-022-01275-5