One of the unexpected consequences of the pandemic is that many people are rethinking their priorities and lifestyles, and physicians are no exception.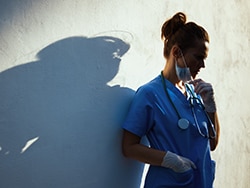 This year's Medscape Physician Lifestyle and Happiness Report surveyed more than 10,000 physicians in 29 specialties about how they are prioritizing wellness, work-life balance, and their family lives during this challenging time.
Pets, Prayer, and Partners
The pandemic has taken a toll on physicians outside of work as well as on the job. Eight in 10 physicians (82% of men and 80% of women) said they were "somewhat" or "very" happy outside of work before the pandemic. This is almost exactly the same result as in last year's survey.
However, when asked how happy they are outside of work currently, only 6 in 10 (59%) reported being "somewhat" or "very" happy. While the pandemic has made life difficult for everyone, healthcare professionals face particular stresses even outside of work. Wayne M. Sotile, PhD, founder of the Center for Physician Resilience, says he has counseled doctors who witnessed COVID-related suffering and death at work, then came home to a partner who didn't believe that the pandemic was real.
Still, physicians reported that spending time with people they love and engaging in favorite activities helps them stay happy. "Spending time with pets" and "religious practice/prayer" were frequent "other" responses to the question, "What do you do to maintain happiness and mental health?" Seven in 10 physicians reported having some kind of religious or spiritual beliefs.
The majority of physicians (83%) are either married or living with a partner, with male physicians edging out their female peers (89% vs 75%). Among married physicians, 8 in 10 physicians reported that their union is "good" or "very good." The pandemic may have helped in this respect. Sotile says he's heard physicians say that they've connected more with their families in the past 18 months. Specialists with the highest rates of happy marriages were otolaryngologists and immunologists (both 91%), followed closely by dermatologists, rheumatologists, and nephrologists (all 90%).
Among physicians balancing a medical career and parenthood, female physicians reported feeling conflicted more often than males (48% vs 29%). Nicole A. Sparks, MD, an ob/gyn and a health and lifestyle blogger, cites not being there for her kids as a source of stress. She notes that her two young children notice when she's not there to help with homework, read bedtime stories, or make their dinner. "Mom guilt can definitely set in if I have to miss important events," she says.
Work-life balance is an important, if elusive, goal for physicians, and not just females. Sixty percent of female doctors and 53% of male doctors said they would be willing to take a cut in pay if it meant more free time and a better work-life balance. Many doctors do manage to get away from work occasionally, with one fifth of all physicians taking five or more weeks of vacation each year.
Seeking a "Balanced Life"
Alexis Polles, MD, medical director for the Professionals Resource Network, points out the importance of taking time for personal health and wellness. "When we work with professionals who have problems with mental health or substance abuse, they often don't have a balanced life," she says. "They are usually in a workaholic mindset and disregard their own needs."
Few physicians seem to prioritize self-care, with a third indicating they "always" or "most of the time" spend enough time on their own health and wellness. But of those who do, males (38%) are more likely than females (27%) to spend enough time on their own health and wellness. Polles adds that exercising after a shift can help physicians better make the transition from professional to personal life. Though they did not report when they exercised, about a third of physicians reported doing so four or more times per week. Controlling weight is an issue as well, with 49% of male and 55% of female physicians saying they are currently trying to lose weight.
Of physicians who drink alcohol, about a third have three or more drinks per week. (The CDC defines "heavy drinking" as consuming 15 drinks or more per week for men and eight drinks or more per week for women.)
Of those surveyed, 92% say they do not regularly use cannabidiol or cannabis, and a mere 4% of respondents said they would use at least one of these substances if they were to become legal in their state.
For more news, follow Medscape on Facebook, Twitter, Instagram, and YouTube.

https://www.medscape.com/viewarticle/966671